Art by Aquinassar
Hello there! I'm Aquinassar, a 23 year old, trans nonbinary freelance artist from New Mexico. I enjoy hiking, swimming, petting cats, and playing games!
Commission Pricelist
Interested in my work? Here's everything I offer for commissions! Just be sure to check out my terms, too! Feel free to ask for a quote if you have something specific in mind or are unsure about the pricing!
---
Commissions are currently Closed!
You can request a quote here and see my progress on commissions here!
---
Portrait
Flat Colors
Headshot: $20
Half Body: $30
Full Body: $40
Shaded
Headshot: $35
Half Body: $45
Full Body: $55
Pricing is for 1 character. Simple, flat color, gradient, pride flag, or outline background are free. Additional background elements may be +$5-$15. Complex designs, armor, items, etc. may cost extra. If you'd like shading, please specify if you'd prefer cell or painted shading!
---
Illustration
Headshot: $50
Half Body: $65
Full Body: $80
Pricing is for 1 character, painted background & painted shading included. Complex designs, armor, items, etc. may cost extra. Additional characters are the same price as a shaded portrait of them.
---
Custom Emojis
$10 for the first of a base & batch, $5 for each after.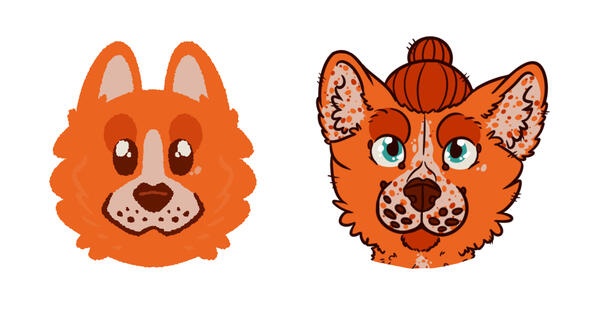 Made with intent for use on Discord! Please note, designs may be simplified to maintain readability when used on Discord, but please let me know if you would like all details shown anyway. Complex and/or non simplified designs may cost extra. Also note, I'm currently best at :3 sorts of faces, but will hopefully be adding human/bird/etc types once I figure out how to get them to look good!
I reserve the right to decline any commission for any reason.

Art commissioned from me is for personal/non-commercial use only. You will be receiving digital goods; there are no physical items that will be shipped. You may post, share and show the art on your social media with credit to me, and you may display the art in your home or work environments. You may not alter the art without permission from me, with the exception of cropping for use as an avatar/icon/signature/similar.

I may post, share, and show the art and works in progress, including but not limited to galleries and social media, and use it as examples for future commissions. I may also stream and/or record & post the progress on your commission.

The payment is non refundable and will be through PayPal Invoice. Approx 1/3 of the payment is due up front within 48 hours of receiving the invoice, 1/3 with approval sketch/first emoji/similar, depending on commission type, and 1/3 before full resolution delivery of order. If the full payment is made up front, I'll provide unlimited full resolution work in progress shots at your request.

I will wait for approval at sketch and coloring stages. At the sketch approval point, please, please let me know if you are unhappy with any of the sketch for whatever reason. I am very happy to work with you to make a piece you are happy with! Please do note that some elements may be resketched/detailed while I am doing the lineart if I notice anything I am unhappy with. I will not make large posing changes, and for anything note-worthy, I'll send it to you again to confirm approval.

Any details not included in references included in your order may be subject to artistic liberty. Please specify if there is any misleading or missing information in your reference material. Overlooked details I will edit in for free, but I may decline requests for free edits for misleading or missing details.

By requesting a commission, you agree to these terms.
Contact Me
Keep an eye out on Discord, Twitter, DeviantArt, and Pillowfort for open commission announcements! Join my art discord for smaller & sometimes random commission announcements! See my progress on commissions over on Trello!